Birch from sustainably managed forests, Glass
dimensions
(W) 110cm (H) 47cm
A dream is the bearer of a new possibility, the enlarged horizon, the great hope.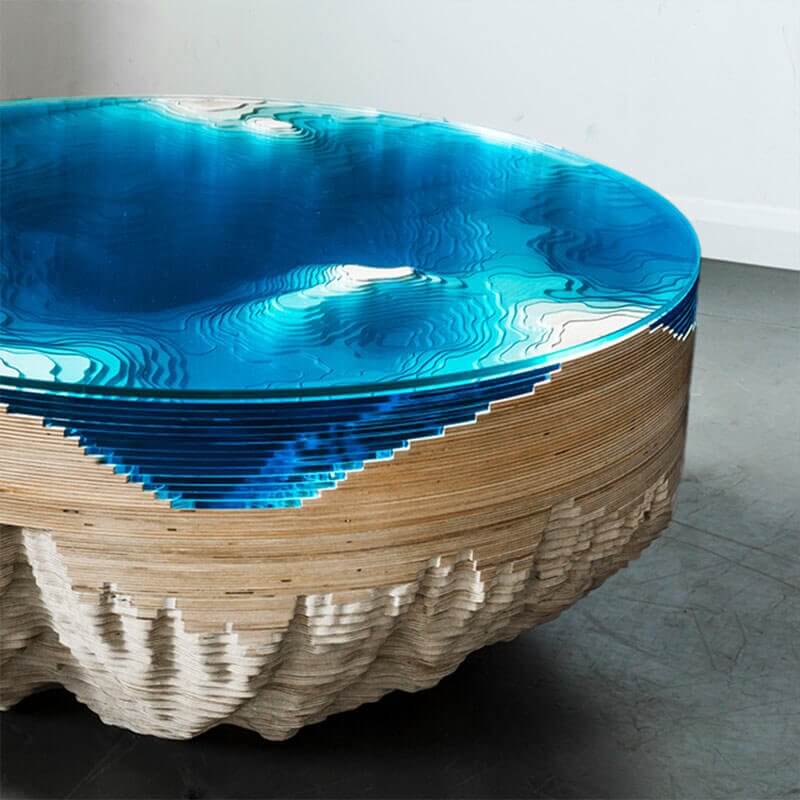 A mesmerising and dramatic, circular coffee table.  Abyss Horizon invites you to stare down into the abyss and to lose yourself in the great unknown.
First sketched in 2012, the Abyss Horizon aims to represent depth, using layers of wood and sculpted glass to produce a visual effect that's reminiscent of our perception of water and how we observe its colour transform at different depths.
Glass and wood materials combine to create a three-dimensional viewing canvas; the yellow-tinted wood reacts with the layers of blue glass to produce an array of luxurious turquoise colours – a vivid depiction of the seabed, as if a mythical power had lifted a perfect circle cut straight from the Earth's crust to use as his own personal ornament.
Discover more on Designboom
Abyss Horizon Coffee Table, 2023 edition  – available now
Product information
MATERIALS
From sustainably managed forests and other controlled sources.
Dimensions
Limited Edition (W) 110cm (H) 47cm
Compact (W) 76cm (H) 40cm
Yacht edition available on request.
Delivery Times
This product is handmade to order by local artisans and in-house craftsmen, using ethically sourced materials, so please allow 12 -14 weeks for delivery.
Additional Details
The Abyss Horizon Table is limited to 25 editions.
We can make bespoke pieces to meet individual requirements.  Please contact us for further information.