In 2002, founder Christopher Duffy, a design graduate from the University of Brighton, made his humble beginning creating products in his kitchen.
Having grown out of the kitchen a long time ago, Duffy London now performs their furniture-making wizardry in a spacious studio in east London.

Duffy London's designs are ideas-based, combining art and function and playing with the concepts of gravity, geometry and illusion.
The innovative and quirky designs spring from the mind of Christopher Duffy, however, he also draws from his talented team of designers, artisans and manufacturers to turn these concepts into quality pieces.

Boasting strong eco-credentials, everything is handmade to order by skilled craftspeople in the UK, using sustainable wood and other eco-friendly materials and mediums.
Duffy London's most acclaimed design is the Abyss Table, a creative replica of a piece of the earth's seabed, which has been acquired by the Musée des Arts Décoratifs in Paris and in Autumn 2019 became part of its permanent national collection.

Other noteworthy designs are the Shadow Chair, that appears to defy gravity by standing on only two legs.

The incredible UP Tables, which are a playful trompe l'oeil, giving the impression of a glass tabletop being suspended by balloons.

There is the delightful Swing Table, which will transport you back to your childhood.

Christopher Duffy,
University of Brighton (BA Product Design)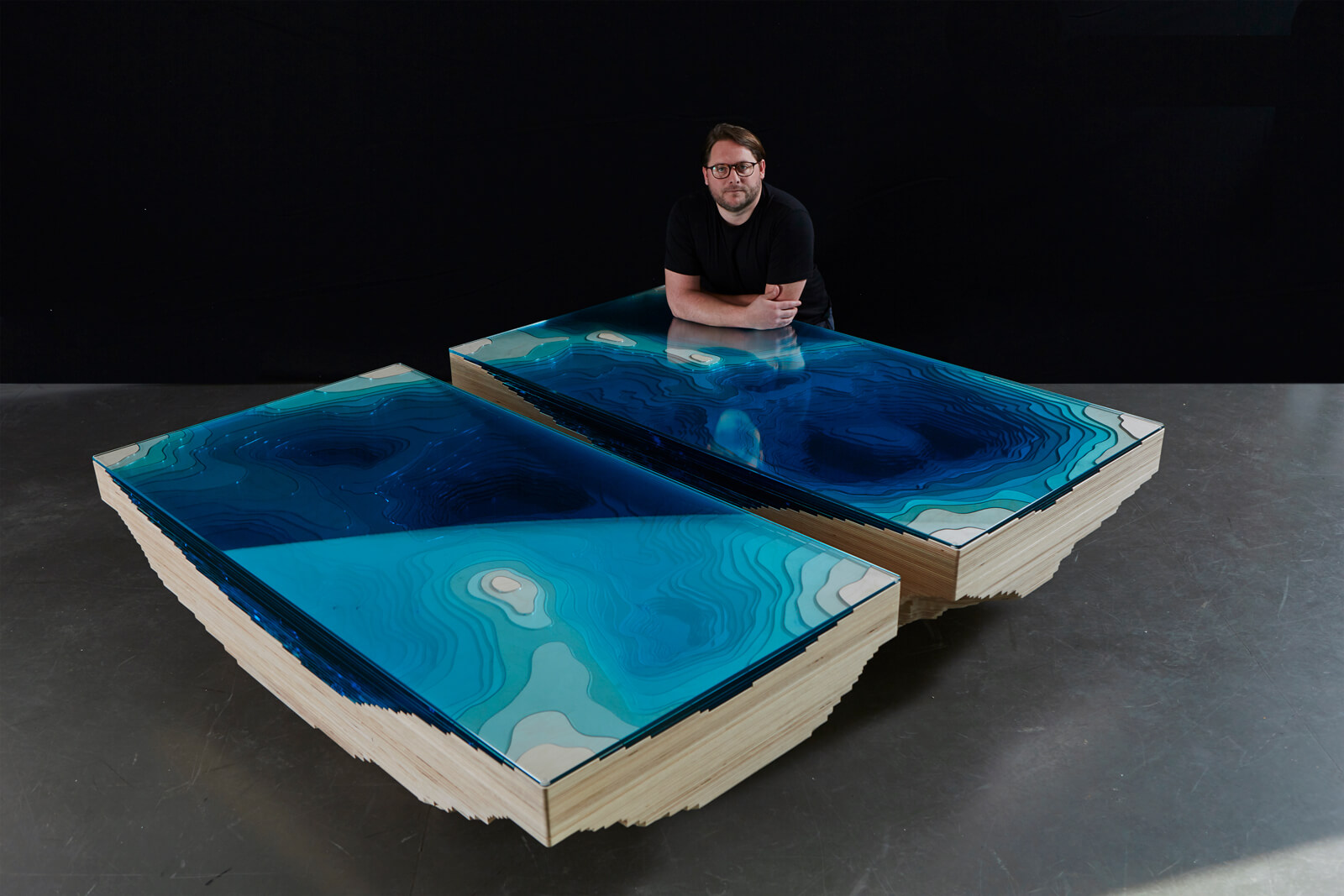 2019
Musée des Arts Décoratifs, Permanent National Collections, Paris, France
PAD Art and Design Fair, London, UK
Art Basel, Basel Switzerland
Art Basel Miami Beach, USA
2018
PAD Art and Design Fair, London, UK
Art Basel, Basel Switzerland
The Salon Art + Design | New York | Art + Design Fair, USA
Art Basel Miami Beach, USA
2017
PAD Fair, London, UK
Art Basel, Basel Switzerland
The Salon Art + Design | New York | Art + Design Fair, USA
Art Basel Miami Beach, USA
2016
PAD Fair, London, UK
Art Basel, Basel Switzerland
The Salon Art + Design | New York | Art + Design Fair, USA
Art Basel Miami Beach, USA
2015
Salone Satellite, Milan, Italy
ICFF, Jacob K Javits Convention Center, New York, USA
Tent London, The Old Brewery, Spitalfields, London, UK
100% Design, Earls Court, London, UK
Hong Kong Design Fair, The Convention Center, HK
Tokyo Design week The Convention Center, Japan
2014
Salone Satellite, Milan, Italy
ICFF, Jacob K Javits Convention Center, New York, USA
Tent London, The Old Brewery, Spitalfields, London, UK
100% Design, Earls Court, London,UK
Hong Kong Design Fair, The Convention Center, HK
Tokyo Design week The Convention Center, Japan
2013
Salone Satellite, Milan, Italy
ICFF, Jacob K Javits Convention Center, New York, USA
Tent London, The Old Brewery, Spitalfields, London, UK
Best of Britannia, London, UK
100% Design, Earls Court, London,UK
Hong Kong Design Fair, The Convention Center, HK
Tokyo Design week The Convention Center, Japan
2012
Salone Satellite, Milan, Italy
ICFF, Jacob K Javits Convention Center, New York, USA
Tent London, The Old Brewery, Spitalfields, London, UK
100% Design, Earls Court, London,UK
Hong Kong Design Fair, The Convention Center, HK
Tokyo Design week The Convention Center, Japan
2011
Salone Satellite, Milan, Italy
ICFF, Jacob K Javits Convention Center, New York, USA
Tent London, The Old Brewery, Spitalfields, London, UK
100% Design, Earls Court, London,UK
Hong Kong Design Fair, The Convention Center, HK
Tokyo Design week The Convention Center, Japan
2010
Salone Satellite, Milan, Italy
ICFF, Jacob K Javits Convention Center, New York, USA
Tent London, The Old Brewery, Spitalfields, London, UK
100% Design, Earls Court, London,UK
Hong Kong Design Fair, The Convention Center, HK
Tokyo Design week The Convention Center, Japan
2009
2Rethink, Bella Center, Copenhagen, Denmark
Hidden Art Christmas Fair, The Old Brewery, Spitalfields, London, UK
Atlanta Gift Fair, Chicago Market: Living and Giving, USA
Tom Dixon Show, Portobello docks, London, UK
Salone Satellite, Milan, Italy
Seattle Gift Show, Washington State Convention & Trade Center, USA
New York International Gift Fair, Javits Convention Center, USA
Bright Ideas, North and South Galleries, Highgate, London, UK
Ideal Home Show, Earls Court, London, UK
2008
Atlanta Gift Fair, Chicago Market: Living and Giving, USA
HK Lighting Fair, Hong Kong, China Top Draw, Earls Court, London, UK
Seattle Gift Show, Washington State Convention & Trade Center, USA
Hidden Art Christmas Fair, The Old Brewery, Spitalfields, London, UK
New York International Gift Fair, Javits Convention Center, USA
Tent London, The Old Brewery, Spitalfields, London, UK
ICFF, Jacob K Javits Convention Center, New York, USA
Grand Designs, Docklands Exhibition Centre, London, UK
Pulse, Earls Court, London, UK
2007
Zetter Hotel, Design Exhibition, Clerkenwell, London, UK
New York International Gift Fair, Javits Convention Center, USA
100% Design, Earls Court, London,UK
ICFF, Javits Convention Center, New York, USA
Homes and Gardens, Olympia, London,UK


2006
100% Design, Earls Court, London, UK
Salone, Milan, Italy
Ease London Design Show, Shoreditch Town Hall, London, UK
Pulse, Earls Court, London, UK