Christopher Duffy founded Duffy London in 2002 while working as a part-time furniture buyer after graduating from the University of Brighton with a BA in Product Design. Having grown out of the kitchen some time ago, Chris and the Duffy London team are now based out of a studio in Victoria Dock. East London.

Our furniture designs are ideas-based, combining art and function, and playing with the concepts of gravity, geography and optical illusion.   Chris works with a talented team of designers, artisans, and manufacturers to turn these concepts into high-quality pieces of luxury, bespoke furniture, and artistic sculpture.

All our pieces are handmade to order here in the London studio by a skilled team of craftspeople using sustainable woods from sustainably managed forests and other eco-friendly materials and mediums.
Works are divided into six main collections - Abyss, Solo Megalith, Up! Balloon, Swing and Meeting Pod. In 2019, a limited edition of the Abyss Table was acquired by the Musée des Arts Décoratifs at The Louvre in Paris to become part of the permanent National collection.

Chris's works have featured at Art Basel, Art Miami and 100% Design London. In 2016 Duffy London was partner for the PAD London 20th Century Design & Decorative Arts Fair. Pieces have been acquired by Sylvester Stallone, Prince, and Miley Cyrus, and companies including Google, Hudson Yards and Four Season's Hotels.

Chris and the studio are constantly exploring new mediums along with the latest cutting-edge techniques, as part of their ongoing mission to apply innovative modern design to the world of furniture and sculpture.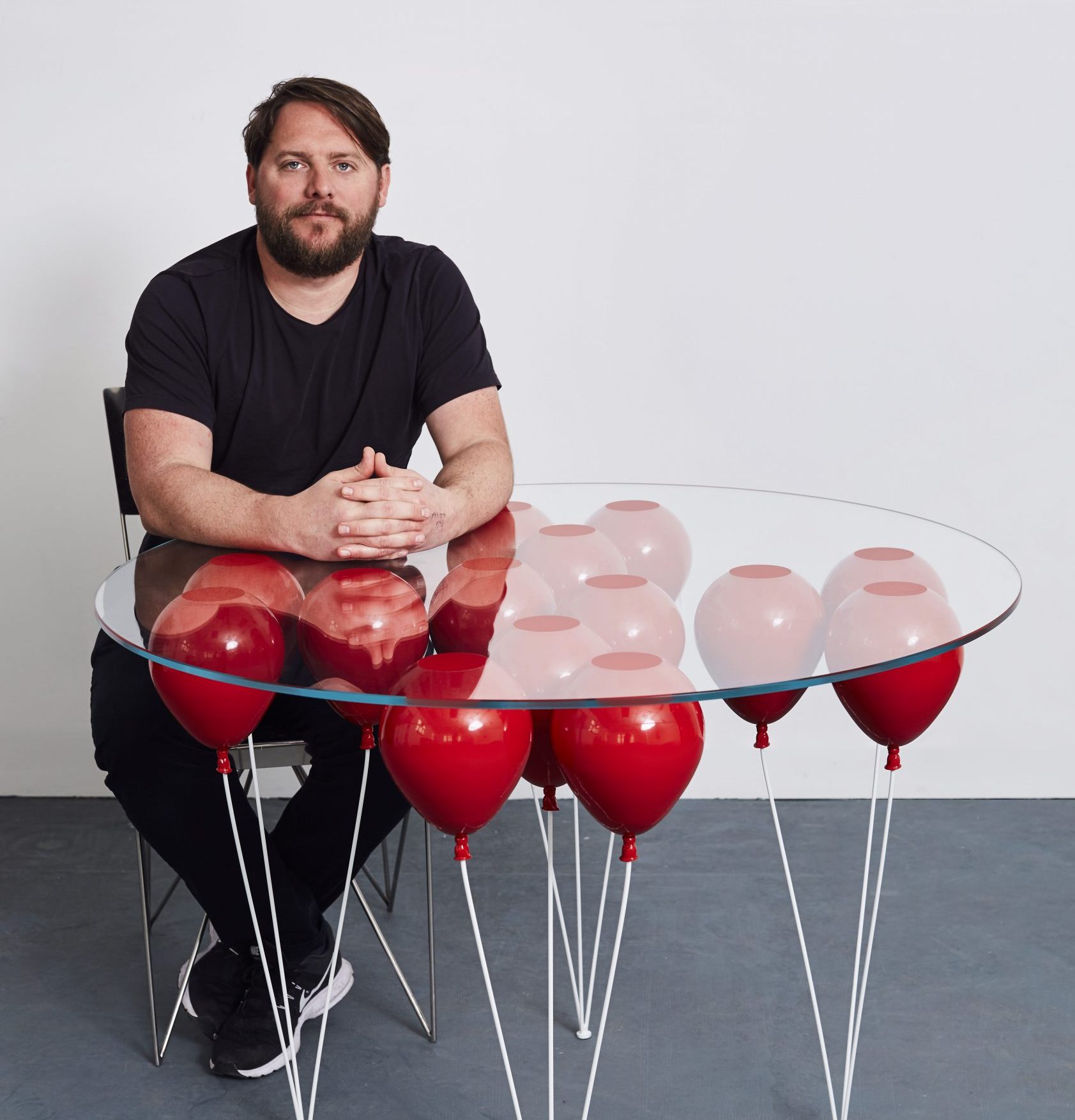 2022
Beyond Nature, Gallery Collectional, Dubai U.A.E
2019
Musée des Arts Décoratifs, Permanent National Collections, Paris, France
PAD Art and Design Fair, London, UK
Art Basel, Basel Switzerland
Art Basel Miami Beach, USA
2018
PAD Art and Design Fair, London, UK
Art Basel, Basel Switzerland
The Salon Art + Design | New York | Art + Design Fair, USA
Art Basel Miami Beach, USA
2017
PAD Fair, London, UK
Art Basel, Basel Switzerland
The Salon Art + Design | New York | Art + Design Fair, USA
Art Basel Miami Beach, USA
2016
PAD Fair, London, UK
Art Basel, Basel Switzerland
The Salon Art + Design | New York | Art + Design Fair, USA
Art Basel Miami Beach, USA
2015
Salone Satellite, Milan, Italy
ICFF, Jacob K Javits Convention Center, New York, USA
Tent London, The Old Brewery, Spitalfields, London, UK
100% Design, Earls Court, London, UK
Hong Kong Design Fair, The Convention Center, HK
Tokyo Design week The Convention Center, Japan
2014
Salone Satellite, Milan, Italy
ICFF, Jacob K Javits Convention Center, New York, USA
Tent London, The Old Brewery, Spitalfields, London, UK
100% Design, Earls Court, London,UK
Hong Kong Design Fair, The Convention Center, HK
Tokyo Design week The Convention Center, Japan
2013
Salone Satellite, Milan, Italy
ICFF, Jacob K Javits Convention Center, New York, USA
Tent London, The Old Brewery, Spitalfields, London, UK
Best of Britannia, London, UK
100% Design, Earls Court, London,UK
Hong Kong Design Fair, The Convention Center, HK
Tokyo Design week The Convention Center, Japan
2012
Salone Satellite, Milan, Italy
ICFF, Jacob K Javits Convention Center, New York, USA
Tent London, The Old Brewery, Spitalfields, London, UK
100% Design, Earls Court, London,UK
Hong Kong Design Fair, The Convention Center, HK
Tokyo Design week The Convention Center, Japan
2011
Salone Satellite, Milan, Italy
ICFF, Jacob K Javits Convention Center, New York, USA
Tent London, The Old Brewery, Spitalfields, London, UK
100% Design, Earls Court, London,UK
Hong Kong Design Fair, The Convention Center, HK
Tokyo Design week The Convention Center, Japan
2010
Salone Satellite, Milan, Italy
ICFF, Jacob K Javits Convention Center, New York, USA
Tent London, The Old Brewery, Spitalfields, London, UK
100% Design, Earls Court, London,UK
Hong Kong Design Fair, The Convention Center, HK
Tokyo Design week The Convention Center, Japan
2009
2Rethink, Bella Center, Copenhagen, Denmark
Hidden Art Christmas Fair, The Old Brewery, Spitalfields, London, UK
Atlanta Gift Fair, Chicago Market: Living and Giving, USA
Tom Dixon Show, Portobello docks, London, UK
Salone Satellite, Milan, Italy
Seattle Gift Show, Washington State Convention & Trade Center, USA
New York International Gift Fair, Javits Convention Center, USA
Bright Ideas, North and South Galleries, Highgate, London, UK
Ideal Home Show, Earls Court, London, UK
2008
Atlanta Gift Fair, Chicago Market: Living and Giving, USA
HK Lighting Fair, Hong Kong, China Top Draw, Earls Court, London, UK
Seattle Gift Show, Washington State Convention & Trade Center, USA
Hidden Art Christmas Fair, The Old Brewery, Spitalfields, London, UK
New York International Gift Fair, Javits Convention Center, USA
Tent London, The Old Brewery, Spitalfields, London, UK
ICFF, Jacob K Javits Convention Center, New York, USA
Grand Designs, Docklands Exhibition Centre, London, UK
Pulse, Earls Court, London, UK
2007
Zetter Hotel, Design Exhibition, Clerkenwell, London, UK
New York International Gift Fair, Javits Convention Center, USA
100% Design, Earls Court, London,UK
ICFF, Javits Convention Center, New York, USA
Homes and Gardens, Olympia, London,UK


2006
100% Design, Earls Court, London, UK
Salone, Milan, Italy
Ease London Design Show, Shoreditch Town Hall, London, UK
Pulse, Earls Court, London, UK