Immerse yourself within the Abyss
dimensions
(L)32cm x (W)32cm x (H)4cm
And when you gaze long into an abyss, the abyss also gazes into you.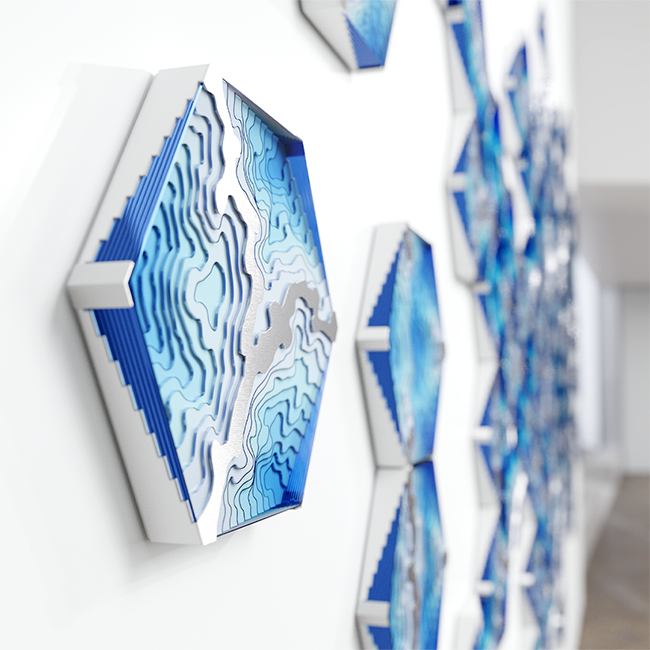 Create and immerse yourself in the Abyss.
Realised using the latest 3d printing technologies and eco-friendly materials, the Abyss Wall Tile is a design first for Duffy London, and an exciting new application for the original Abyss design.
The tiles are based on Truchet Tiling, a mathematical tiling system, and uniquely designed so that no matter how they are combined, they can be re-arranged to create an entirely new, bespoke flowing pattern, that can be scaled up or down to fit different spaces and environments.
Product information
MATERIALS:
Plexiglass, Recycled plastic, Brushed Stainless Steel
DIMENSIONS:
32cm x 32cm x (H)4cm
DELIVERY TIMES
10-14 weeks from date of deposit received
ADDITIONAL INFORMATION
Bespoke pieces and finishing options are available on request
ABYSS COLLECTION
A study of depth and our perception of it.  Discover the Abyss collection in full here
In 2019, a limited edition of the original Abyss Table was acquired by the Musée des Arts Décoratifs at The Louvre in Paris to become part of the permanent French National collection.