dimensions
(L)300 x (W)140 x (H)75cm
We set ourselves rules in order to be totally free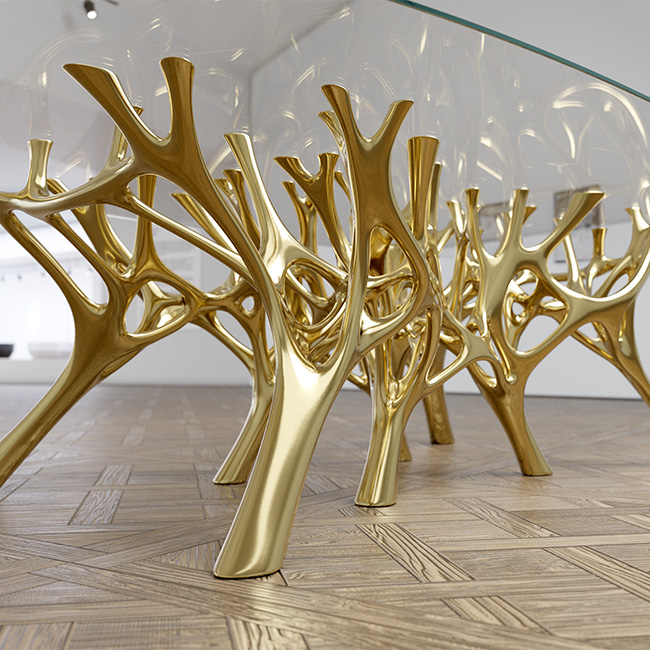 Reshaping infinity.
Singularity Dining Table harnesses the organic efficiency of AI generative programming into a magnificent showcase piece, brought to physical reality in striking infused resin or bronze casted finishes.
A whole new visual aesthetic emerges as the traditional linear design process is disrupted by Artificial Intelligence; the decorative nature of the piece is simply the byproduct of the AI's efficiency producing a design with minimal materials.
What appear to be free-flowing, organic structures are refined and then combined into a single stellar piece that supports a glass table-top.
Each piece within the collection has two finishes: Dark and Light. The dark finish is a combination of matte and gloss black.  The light finish combines brilliant white, brushed stainless steel and mirror polished gold.
Specifications
MATERIALS
Base section in bronze casting or infused resin.
FINISHES
Base section in bronze casting, infused resin in matte black or gold.
Table-top in glass or marble.
DIMENSIONS
(L)300 x (W)140 x (H)75cm
DELIVERY TIMES
Please allow between 14 – 16 weeks for delivery following approval of design
ADDITIONAL INFORMATION
Singularity Dining Table is limited to 12 unique editions