Birch from sustainably managed forests, Glass
dimensions
(L) 180cm (W) 90cm (H) 75cm
God gave the sea the danger and the abyss, but it was in it that He mirrored the sky.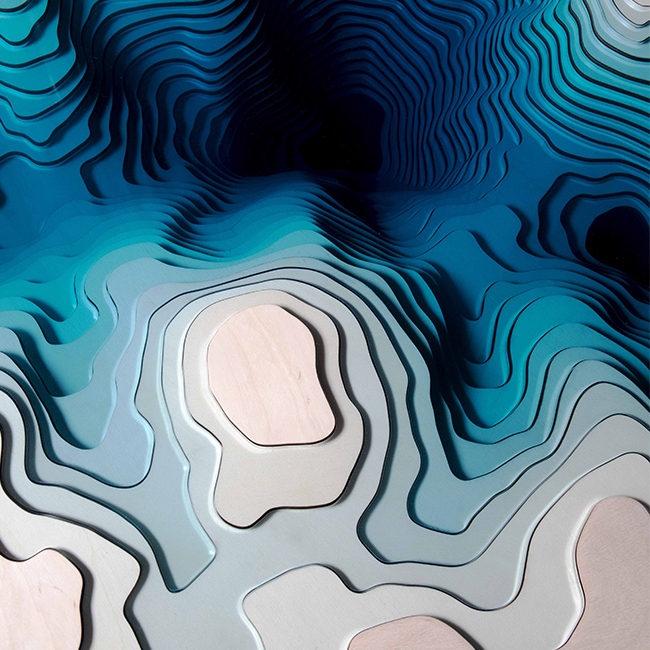 Abyss Dining Table expands Duffy's explorations of the concept of depth with a mesmerising depiction of the Earth's seabed, played out in vivid turquoise colours and grounded in a resplendent mirror polished stainless steel or matte black finish.
Intricate layers of glass and wood materials combine to create a three-dimensional viewing canvas; the yellow-tinted wood reacts with the blue glass to produce an array of luxurious colours, offering a glimpse into the thrilling ocean depths from the comfort of your dining room!
Abyss Dining is raised to dining – or boardroom – level at 75cm high on matte black or mirror-polished stainless steel plinths and seats up to eight people in standard format with fully bespoke pieces available on request.
Every piece is handmade at the Duffy London studio here in Victoria Dock, East London using eco-friendly materials from controlled sources and wood from sustainably managed forests.
Our latest coffee table design, the Abyss Horizon Coffee Table, 2023 edition is now available in both a birchwood and marble finishes.
Product information
MATERIALS
From sustainably managed forests and other controlled sources.
The table base is available in either highly polished stainless steel or a black powder-coated matte finish.
DIMENSIONS
(Ø) 170cm x (H) 75cm
(L) 180cm (W) 90cm (H) 75cm
6 – 8 seats
DELIVERY TIMES
Our products are handmade with care and attention, by in-house and local craftspeople using ethically sourced sustainable materials, so please allow 12 – 14 weeks for manufacture.
ADDITIONAL DETAILS
The Abyss Dining is limited to 11 editions.
We can provide one-off bespoke pieces. Please contact us for further information.