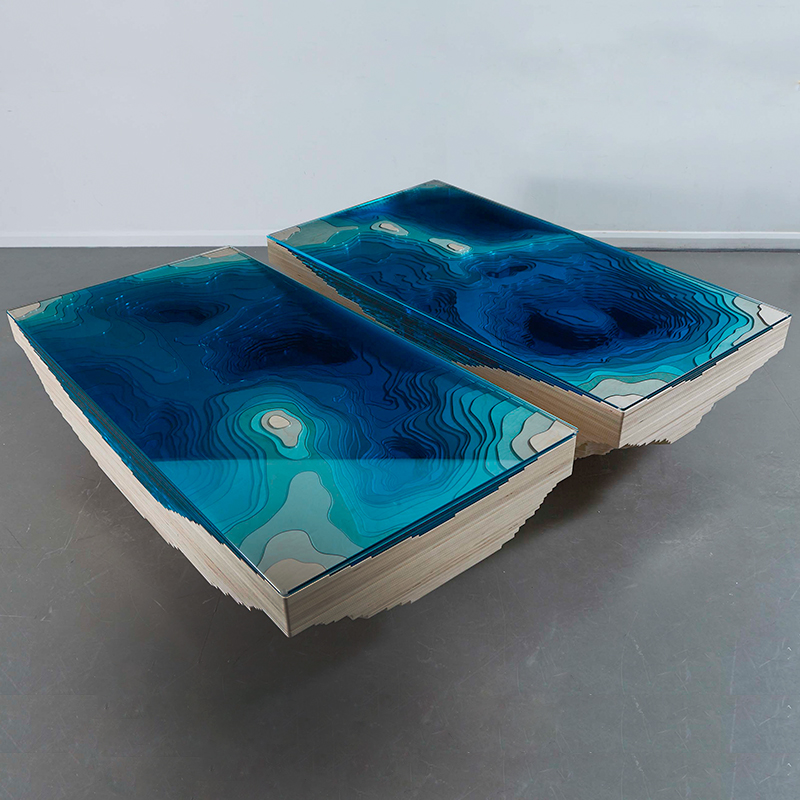 Kraken Abyss Table
"AS IF A MYTHICAL POWER HAS LIFTED TWO PERFECT RECTANGLES STRAIGHT FROM THE EARTH'S CRUST TO USE AS HIS PERSONAL ORNAMENTS"
Duffy London casts an eye downwards – looking to the depths of the ocean to dream up a dramatic new coffee table, that introduces the majesty of the big blue to the interior.
Edition closed
Please contact us for further information

INTRODUCING THE KRAKEN
The design team spent a year developing the Abyss table in their London studio, experimenting with sculpted glass, plexiglass and wood, arranged like a 3-D representation of a geological map, until they re-created something of the mesmeric abyss that had first captured Duffy's imagination.
This year, Duffy London is expanding
its popular Abyss range with the introduction of the Kraken Abyss Table.
The Kraken is made of two large pieces, with underwater seascapes, and
geological cross sections, each has an individual pattern, that flows from one
table into the other.

PRODUCT DETAILS
Materials
High-grade wood from Forest Stewardship Council managed forests and other controlled sources. Plexiglass. Glass
Dimensions
(L)190cm (W)95cm (H)48cm
Delivery Times
This product is handmade to order by local artisans
and in-house craftsmen, using ethically sourced materials.
Please allow 12-16 weeks for delivery.
Additional Details
The Kraken Abyss Table is limited to 25 editions.