"The products are always unusual and expertly produced."
Fiona Sutton, Managing Director of Momentum Events
Product: Bespoke office lampshades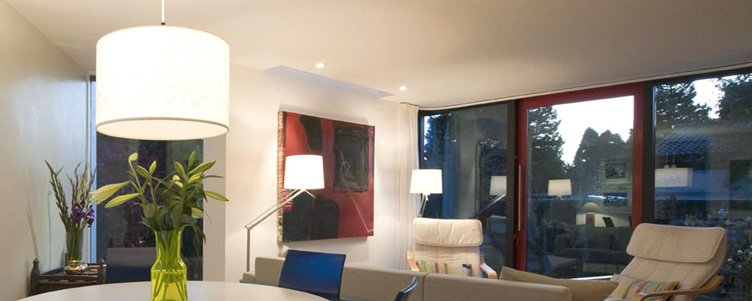 Background
Here at Momentum Events, we're often hired to take care of brand launches, event production and, more recently, interior design for the likes of Virgin Media, Nintendo and the BBC. Whenever possible, we like to work with Chris Duffy to help make these events spectacular – and he always delivers the goods. From bespoke office lampshades to custom–made canvas prints and digitally printed wallpaper, everything is of the very highest quality.
My Duffy London experience
In recent years we have produced a number of events for UKTV, including the launch of their Dave TV channel. We were also commissioned to redesign their entire office space – a job we were delighted to undertake with Chris Duffy's help. Chris designed bespoke lampshades for each department within the office, giving each area its own visual identity.
Final thoughts
The great thing about Chris's products, including his office lampshades, is that they are always unusual, expertly produced and tailor made to the customer's requirements. We particularly liked his bespoke printed wallpaper designs, which are always incredibly striking.
Chris is also a real pleasure to work with, not least because he tolerates the fact that we're always changing our minds! More importantly, he genuinely understands our needs and goes out of his way to make sure everything is perfect. With Chris, you receive the best possible customer service from start to finish. I hope we'll get to work with him on another exciting project soon!
Get in touch for more information: